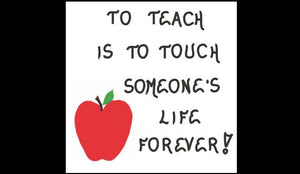 Magnet - Teacher - Quote, appreication, thank you, instructor, tutor, educator
Teacher magnet. Perfect gift with a thought of appreciation that is always visible!
Say "thank you" to your teacher for all the help and caring they give.
A wonderful gift for the tutor!
Beautiful and bold 3x3" sturdy laminated vinyl magnet material.
Quote reads: To Teach is to Touch Someone's Life Forever!