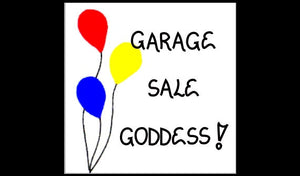 Humor about Garage Sales - Humorous saying, yard sale enthusiasts. Red, Yellow, Blue Balloons
'Tis the season for garage sales in your area?  This magnet has a delightful and humorous quote for these enthusiasts or anyone who loves yard sales! Illustrated with red, yellow and blue balloons.
A 3 x 3 inch laminated art print is mounted on sturdy, strong and useful flexible vinyl magnet.
Text reads:
Garage Sale Goddess!
Fun fridge magnet about people who love to hunt for the prize at garage sales or tag sales.
USA Made and proudly handcrafted in the Historic Hudson Valley
Can be personalized with a name across the red ballon on the diagonal
Thanks for visiting!