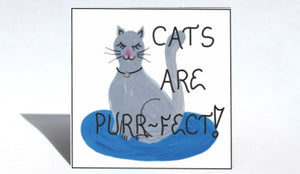 Refrigerator Magnet - Cat theme - Feline quote, gray kitty, real rhinestone necklace, blue rug
A cat theme refrigerator magnet will delight any feline lover. This quote is illustrated with a gray kitty wearing a rhinestone necklace and sitting on a blue rug.
Saying reads: Cats are Purr-fect
This magnet is a handcrafted, strong, 3x3 inch laminated print on flexible magnet.
The smiling gray kitty has a real rhinestone necklace!
Perfect gift for any cat lover.
Thank you for visiting The Magnificent Magnet!