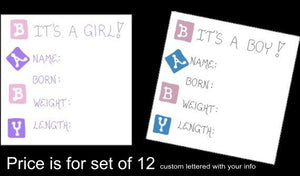 Birth Announcement Magnets, Baby Blocks, new infant, newborn, birth, girl, boy, born, pink, blue
Birth Announcement Magnets are a great way to celebrate the arrival of a new girl or boy baby.
An infant is a joy and this is a lasting keepsake of a birth.
A pink and blue baby block design runs along the side of the magnet. Custom lettered with newborn birth information. Quote at the top reads: It's a Boy (or Girl)! A permanent keepsake instead of a card with baby's Name, Birthdate, Weight, and Length.
Sold in sets of 12.
Please supply us with: Boy or Girl and the baby's information.
Custom magnets created for any special event...Contact us!
Need larger quantities? Discounted pricing for higher amounts. Please message us for pricing.
Do you have a different design in mind? Let us know and we can work with you to create a custom design birth announcement.
Proudly handcrafted in the Historic Hudson Valley!