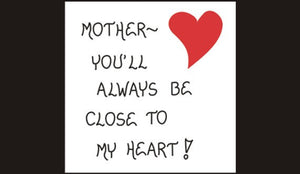 Mother Magnet - Quote, mom, mommy, gift, message of love, red heart
Give your mother this magnet with a lasting message of love. Tell your mother how much you love her with this quote featuring a red heart design.
Magnet title reads: Mother~You'll always be close to my heart!
Handcrafted laminated print on flexible magnet, 3 x 3 inch square. Strong and sturdy,original design
Beautiful message of love for mom.
Proudly handcrafted in the Historic Hudson Valley!
http://www.themagnificentmagnet.etsy.com
Other mother, mother-in-law, grandma magnets at:
http://www.etsy.com/listing/94900311/mother-in-law-magnet-quote-for-husbands
http://www.etsy.com/listing/98437690/mother-magnet-quote-about-mom-and-heart
http://www.etsy.com/listing/88849729/grandma-magnet-grandmother-quote