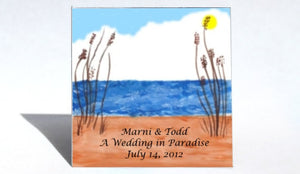 Seaside Wedding Favor Sample, Beach scene, bridal, personalized message.
This is a seaside Wedding Favor Sample, Beach scene, personalized with your custom message.
SAMPLE : Include your info with order and we will make you a personalized sample with your name, date and message...three line maximum please!
Each magnet favor is 3 inches by 3 inches, original art is laminated and adhered to flexible magnet backing covering the entire surface. Strong and sturdy.
Beautifully packaged in an ultra clear 3.25" x 3.25" envelope.
Handcrafted refrigerator magnets are perfect for your wedding favors. We personalize them with your name, date, theme or message.
These beautiful mementos remain visible on everyone's fridge to remember your special day.
Custom magnets with your unique artwork can be designed just for you to match your theme. Message us with your dreams!
All of our magnets are available in either flexible magnetic material or our ceramic tiles.
Please take a look at the other examples of wedding favors, party favors and Save the Date Magnets that we can create just for you.