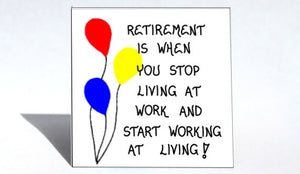 Retirement magnet - humorous quote, retiring, retire, red blue yellow balloons
A great magnet for someone in retirement or retired. This humorous quote on retiring is pictured with red, yellow, and blue balloons.
Quote reads: Retirement...when you stop living at work and start working at living.
This Magnificent Magnet is a 3 x 3 inch laminated art print, mounted on flexible magnet. Sturdy, strong and useful.
Thanks for coming to visit us!
The Magnificent Magnet
http://www.themagnificentmagnet.etsy.com