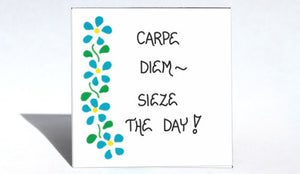 Inspirational Magnet Quote, Inspiring, Motivational Saying, Carpe Diem, Sieze the Day, Blue flower cascading design
This Inspirational, Motivational Magnet quote, Carpe Diem, Sieze the Day, has a Blue flower cascading design
The inspiring saying is: Carpe Diem ~ Seize the Day!
Handcrafted 3 x 3 inch print, laminated and adhered to flexible vinyl magnet square. Strong and sturdy.
Take advantage of every moment! Be enthusiatic about what you do!
For more inspiration: https://www.etsy.com/listing/87590921/inspirational-magnet-inspiring-quote-for
Be inspired or inspire someone you care about with this great magnetized quote that will always be visible. Proudly handcrafted in the Historic Hudson Valley!