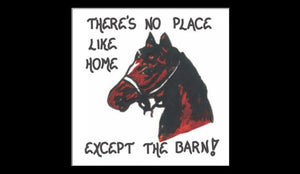 Horse Magnet - Quote, equine lovers, mare, barn, stable, equestrians, brown, black mane, bridle
Our Horse Magnet has a delightful quote for equine lovers and equestrians. The brown mare has a black mane and bridle.
There's no place like home except the barn!
Handcrafted 3 x 3 inch laminated print on flexible magnet.
Strong, original and unique magnet.
This magnet is perfect for the horse lover!
Here's another popular horse themed magnetic quote:
https://www.etsy.com/listing/87199405/horse-magnet-equine-enthusiasts-quote
http://www.themagnificentmagnet.etsy.com
Thanks for visiting The Magnificent Magnet
Handcrafted in the Historic Hudson Valley!