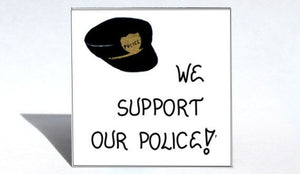 Police Support Magnet
We support our Police is the quote on this magnet.
Our police deserve our support! Be proud and display this magnet on your refrigerator.
Give this magnet as a gift to someone you know who is a police officer or the spouse of a person in blue.
Each magnet is 3 x 3 inch square, handcrafted in the Historic Hudson Valley.
The price of $3.95 makes this a great gift and easily mailed to friends and family.
Thank you for stopping by The Magnificent Magnet
http://themagnificentmagnet.etsy.com