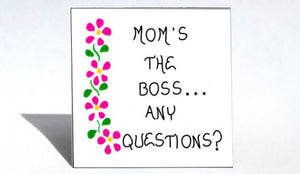 Magnet -Mom - Humorous Quote, mother, Boss, In Charge ,Woman, Home Leader, House Chief
A magnet for Mom with a humorous quote is a delightful gift that says mom is an in charge woman, home leader, and house chief.
Title reads: Mom's the boss...any questions?
Funny magnet for Mom, Mother's Day, Boss's Day or any day!
Handcrafted laminated print on flexible magnet, 3 x 3 inch square. Strong and sturdy,original design
Humorous message that mom is the boss!
USA Made and proudly handcrafted in the Historic Hudson Valley!
http://www.themagnificentmagnet.etsy.com
See some other mother, mother-in-law, grandma magnets at:
http://www.etsy.com/listing/94900311/mother-in-law-magnet-quote-for-husbands
http://www.etsy.com/listing/98437690/mother-magnet-quote-about-mom-and-heart
http://www.etsy.com/listing/88849729/grandma-magnet-grandmother-quote