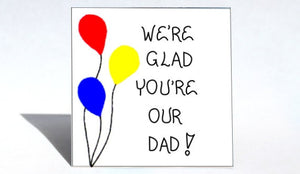 Refrigerator Magnet - Father Quote, Dad, Daddy, Papa, Red, yellow, blue balloons
A Kitchen Magnet for Dad has a Quote for your father, daddy, or Papa. Red, yellow and blue balloons make this a happy gift.
Text reads: We're glad you're our Dad!
Tell Dad you're glad! Perfect as a Father's Day Gift, Birthday Gift, or just to tell him you love him.
Can be made to say "I'm glad you're my dad!" for one person or child. Just specify in order.
A magnet stays visible on the refrigerator and is always seen.
Strong and sturdy, handcrafted 3x3" laminated art print mounted onto flexible magnet.
Proudly handcrafted in the Historic Hudson Valley!
Other magnet quotes for Dad:
http://www.etsy.com/listing/89911681/father-magnet-quote-for-daddy-about-love
http://www.etsy.com/listing/87195722/father-magnet-quote-for-dad-daddy-papa
Thanks for visiting our collection of Magnificent Magnets!