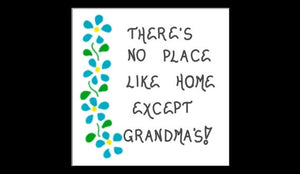 Refrigerator Magnet for Grandma, Grandmother quote, blue cascading flowers
A refrigerator magnet for Grandma with a special grandmother quote. Blue cascading flowers illustrate this heartfelt saying.
There's No Place Like Home Except Grandma's.
How true that is for so many of us! Let grandma see how you feel every time she opens the refrigerator.
Handcrafted 3 x 3 inch laminated flexible vinyl magnet. Unique and strong
Do you call your grandma Nana? Bubbe? Grammy? Oma? We can customize this magnet FREE with her special name! Just tell us in the message area on your order.
Also for Grandmothers:
https://www.etsy.com/listing/99782636/grandmother-magnet-grandchildren-quote
The Magnificent Magnet...proudly USA Made!
http://www.themagnificentmagnet.etsy.com
Thanks for stopping by!