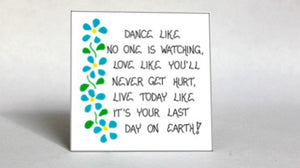 Inspirational Quote Magnet - Live, love, laugh every day, blue flowers, green leaves
Inspirational Quote Magnet - Live, love, laugh every day, blue flowers, green leaves
Inspiring Saying reads: Dance like no one is watching, love like you'll never get hurt, live today like it's your last day on earth!
This refrigerator magnet is handcrafted and measures 3 x 3 inches. A laminated print is adhered to flexible magnetic material. Strong and sturdy.
Live every day to it's best. Be enthusiatic about what you do!
Be inspired or inspire someone you care about with this great fridge magnet quote that will always be visible.
USA MADE and proudly handcrafted in the Historic Hudson Valley!
http://www.themagnificentmagnet.etsy.com
Thanks for visiting our collection of Magnificent Magnets!