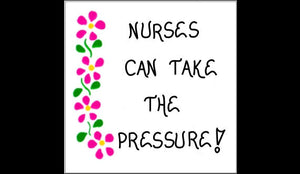 Nurses Magnet Quote, Nursing humor, pink flowers, green leaves design
This magnet about Nurses has a quote on nursing humor. Our signature pink flower design illustrates this humorous magnetic saying.
Quote reads: Nurses can take the pressure!
Each Magnificent Magnet is a handcrafted 3"x3" art print, laminated on thick flexible magnet..
Our magnetic quotes are strong and unique.
This magnet is a great gift for every nurse!
USA Made and proudly handcrafted in the Historic Hudson Valley!
http://www.themagnificentmagnet.etsy.com