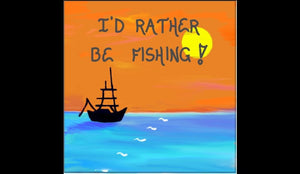 Fishing theme magnet quote, fishermen, fisherman, motor boat, love to fish, orange sunset
Fishing Theme Magnet Quote
Perfect little gift for fishermen who love to fish. 
A motor boat, beautiful orange sunset, and blue ocean illustrate this magnet.
This magnet is a great gift for the fishing enthusiast!
An artist print is laminated and adhered to 3"x3" flexible vinyl magnet. Strong and unique.
USA Made and proudly handcrafted in New York State's Historic Hudson Valley!