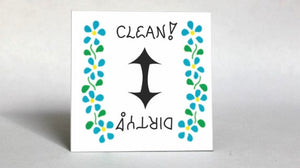 Handcrafted Magnet, Dishwasher Quote, Clean, Dirty Status Arrow, blue flower design
A handcrafted magnet to show if your dishwasher is clean or dirty! Blue cascading flowers with an arrow to show the status.
This Magnificent Magnet measures 3" x 3" and is a laminated art print that is adhered to sturdy flexible magnetic material.
Makes a cute little gift for anyone with a dishwasher!
USA Made in the Historic Hudson Valley.
Thanks for visiting our collection of handcrafted magnets!
Wholesale pricing by the dozen on all of our magnets to retail shops. Please message us for catalog and prices.
The Magnificent Magnet