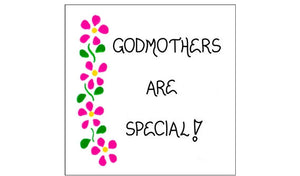 Refrigerator magnet - Godmother Godparent quote, pink flowers, green leaves
This Godmother magnet lets your godparent know how special she is.
Refrigerator magnet reads: Godmothers are Special!
Remember your godparent with this unique fridge magnet
3x3 inch laminated print on flexible magnetic material. Strong and sturdy
USA Made and proudly handcrafted in the Historic Hudson Valley!
http://www.themagnificentmagnet.etsy.com