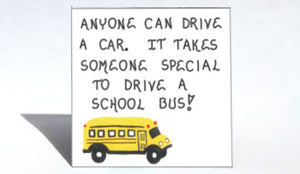 School Bus Driver Magnet - Schoolbus operator thank you gift, yellow vehicle
This School Bus Driver Magnet says thank you to the schoolbus operator. A great gift to show your appreciation. A yellow school bus vehicle illustrates the heartfelt message.
Quote reads: Anyone can drive a car. It takes someone special to drive a school bus!
Perfect End of Year Thank You Gifts!
This Magnificent Magnet is a handcrafted 3"x3" laminated print on flexible magnet. , Strong and unique.
The Magnificent Magnet
handcrafted in the Historic Hudson Valley