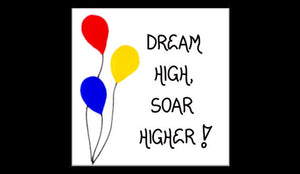 Inspirational Magnet - inspiration Quote Dream High, Soar Higher, inspiring saying, inspire, red, yellow, blue balloons
This inspirational magnet says Dream High, Soar Higher. An inspiring message. Inspire someone with this great message. The red, yellow and blue balloons illustrate the uplifting quote.
Magnificent Magnets are handcrafted 3 x 3 inch flexible vinyl magnet with laminated art print that is adhered to the magnetic material.
Be inspired or inspire someone you care about with this motivational saying. Great holiday gift!
USA Made and proudly handcrafted in the Historic Hudson Valley.
The Magnificent Magnet
http://www.themagnificentmagnet.etsy.com