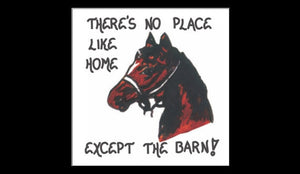 Magnet - Horse Quote - barn, stables, equestrians, equine enthusiasts, riders, owners. Brown horse, black mane. bridle
This horse theme magnet about barns, stables is perfect for the horse owner, rider, equestrian, and equine enthusiast.
There's no place like home except the barn!
Handcrafted 3 x 3 inch art print is laminated for protection and mounted on flexible vinyl magnet.
Our magnets are strong, original and unique.
This magnetic quote makes a great gift for anyone who owns, rides, or tends to horses.
And for those who love horses, but are not in the barn:
etsy.com/listing/87199405/horse-magnet-equine-enthusiasts-quote
USA Made in the Historic Hudson Valley!
The Magnificent Magnet, there's a magnet for everyone!
http://www.themagnificentmagnet.etsy.com