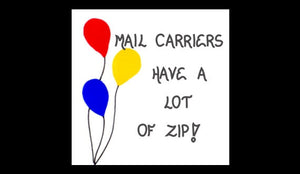 Mail Carrier Magnet Quote, Postal Workers, mailman, mailwoman, postman, postwoman humorous saying, Red, yellow, blue balloons
A magnet for your Mail Carrier is a unique thank you gift anytime of year.
Let your mailman or mailwoman know how much you appreciate him or her. Red, yellow and blue balloons compliment this humorous saying.
The quote reads: Mail carriers have a lot of zip!
Give a little "Thank You" to your mail carrier who is there every day...rain sleet, snow or hail...delivering your mail. These Postmen or Postwomen are important to all of us.
This magnet will bring a smile to your mailman or mailwoman any time of year. It can be personalized with their name. Just add it to the instructions when ordering. Can also customize and substitute the Mail Carrier name with POSTAL WORKERS, POSTMASTERS, or any other Post Office worker title!
Handcrafted 3"x3" flexible vinyl magnet. Strong and unique, this magnet is a wonderul gift for the mail carrier or any mail handler that works in the post office.
See many other occupational themes at: http://www.etsy.com/shop/TheMagnificentMagnet?section_id=10659011
USA Made and proudly handcrafted in the Historic Hudson Valley!
The Magnificent Magnet
http://www.themagnificentmagnet.etsy.com