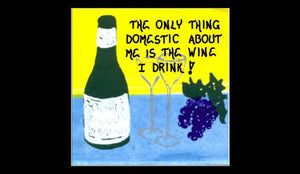 Wine lover Magnet - Humorous Saying, Vino, grapes, Crystal glasses, green bottle
A humorous quote about wine. This saying about vino will delight the wine lover. Purple grapes with a green bottle and crystal glasses illustrate this magnet.
Quote says: The only thing domestic about me is the wine I drink!
Handcrafted 3 x 3 inch laminated vinyl magnet. Terrific gift for the wine enthusiast, collector, or anyone who enjoys vino!
See other great wine theme magnets at:
http://www.etsy.com/listing/96666940/wine-magnet-humorous-quote-purple-grapes
http://www.etsy.com/listing/86703253/wine-theme-magnet-humorous-quote-purple
The Magnificent Magnet...USA Made in the Historic Hudson Valley.
http://www.themagnificentmagnet.etsy.com
Thanks for visiting our delightful collection of magnets!