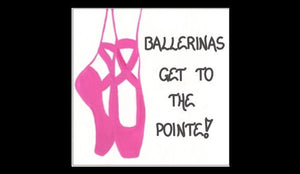 Magnet - Ballerina - Ballet Teacher Gift, quote, dance, dancer, dancing saying, pink toe shoes
A quote about ballet dancers. A wonderful magnet for the ballerina who loves to dance. Pink toe shoes compliment the saying. Great gift for the teacher.
Ballerinas Get to the Pointe is a delightful play on words that will make any ballet dancer or teacher smile.
Each of our Magnificent Magnets is a handcrafted 3 x 3 inch laminated art print on flexible vinyl magnet. Strong and sturdy, they are useful on the fridge or file cabinet.
USA Made and proudly handcrafted in the Historic Hudson Valley.
http://www.themagnificentmagnet.etsy.com
Thanks for visiting!
The Magnificent Magnet