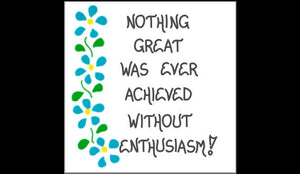 Inspirational Magnet - Great achievements magnetic quote, Enthusiasm saying, Blue cascading flowers
Inspirational Magnet Magnetic quote about enthusiasm. Enthusiastic saying, Blue cascading flowers.
Nothing great was every achieved without enthusiasm!
Handcrafted 3 x 3 inch art print on flexible vinyl square. Strong and sturdy.
Be enthusiatic about what you do! Be inspired or inspire someone you care about with this great magnetized quote that will always be visible. Proudly handcrafted in the Historic Hudson Valley!
http://www.themagnificentmagnet.etsy.com