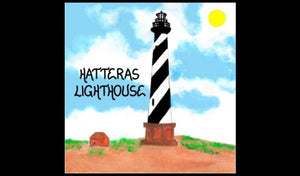 Lighthouse Magnet - Hattaras Light, Outerbanks, North Carolina, orginal art print
This Lighthouse Magnet of the famous Hattaras Light in the Outerbanks, North Carolina,is an orginal art print
Perfect for the lighthouse lover, collector, or anyone that loves the Outerbanks in North Carolina.
Handcrafted 3 x 3 inch original art print, laminated and adhered to fully backed flexible magnet.
See additional lighthouse and beach theme magnets at:
https://www.etsy.com/listing/87464456/lighthouse-magnet-barnegat-light-in-new
Thanks for stopping by to visit our collection of Magnificent Magnets!
Http:themagnificentmagnet.Etsy.com
We are now on Etsy Wholesale offering our wholesale only Regional Scenes magnets. Great collectibles for vacation areas, museums, and wineries. Custom design of your unique town or building!