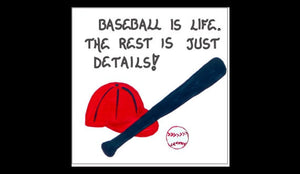 Refrigerator Magnet - Baseball Theme - Ball game Quote, Humorous, Red Hat, Blue Bat, White Ball
Refrigerator Magnet - Baseball Theme
A humorous theme magnet quote about Baseball and the ballgame.
It is illustrated with a red hat, blue bat and white ball.
Saying reads: Baseball is life, the rest is just details!
Handcrafted in the Historic Hudson Valley, this baseball magnet is a 3 x 3 inch artist print which is laminated on strong flexible vinyl magnet. Sturdy and strong so that it is useful to hold things up on your refrigerator.
A perfect gift for the baseball player, fan and enthusiast!
See other Sports and Hobbies magnets in our shop at:
http://www.etsy.com/shop/TheMagnificentMagnet?section_id=10707871
USA made in the Historic Hudson Valley!
Thanks for visiting!
The Magnificent Magnet
http://www.themagnificentmagnet.etsy.com