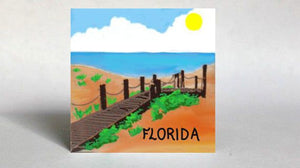 Refrigerator Magnet - Souvenir- Gift - Handcrafted - Custom Name Drop - Boardwalk - Beach Scene - Seaside view of ocean -
This handcrafted refrigerator magnet makes the perfect souvenir or gift.
A walkway to the beach looking out over the ocean. What a serene view! Seaside landscape and a beautiful sky completes this lovely souvenir memento of a trip to your area.
Personalized with your town, state or regional name, these magnets make great little mementos and gifts to remember a vacation to the seashore.
Each magnet is a 3" by 3" square. A laminated print is adhered to sturdy, flexible magnet. Each magnet is packaged in its own clear cellophane bag, ready to display.
Magnets attract people...season after season and promote your region. Great Point-of-Purchase item at your checkout table.
Custom designs of your area are also available. Please ask us! a 100 piece minimum is required to create a special scene for you.
When ordering, please enter desired label or "name drop" in the Notes section.
See our pelican magnet: https://www.etsy.com/wholesale/listing/386263932/pelican-magnet?ref=related-3
Thank for stopping by!
The Magnificent Magnet
http://www.themagnificentmagnet.com
845-342-1137