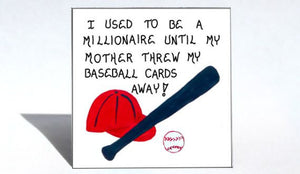 Magnet - Baseball Card Collections, Humorous, Red Hat, Blue Bat, White Ball
A humorous magnet quote about baseball card collections. Illustrated with a red hat, blue bat, and white ball.
Saying reads: I used to be a millionaire until my mother threw my baseball cards away!
Perfect for the baseball player, fan and enthusiast! Great gift!
Oh...those mothers...throwing away all those baseball cards. What were they thinking? LOL
Handcrafted in the Historic Hudson Valley, this baseball magnet is a 3 x 3 inch artist print which is laminated on strong flexible vinyl magnet. Sturdy and strong so that it is useful to hold things up on your refrigerator.
See other Sports and Hobbies magnets in our shop at:
http://www.etsy.com/shop/TheMagnificentMagnet?section_id=10707871
USA made in the Historic Hudson Valley!
Thanks for visiting!
The Magnificent Magnet
http://www.themagnificentmagnet.etsy.com