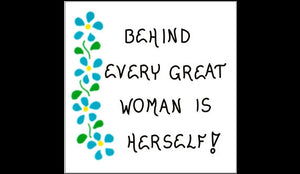 Refrigerator Magnet - Inspiring woman quote, female confidence, blue cascading flowers, green leaves
Refigerator Magnet- Inspirational quote about women. Feminine confidence is the subject of this inspiring saying. Blue cascading flowers and green leaves illustrate this theme.
Quote says: Behind Every Great Woman is Herself!
A touch of humor and inspiration for any woman!
3"x3" magnet. Sturdy vinyl magnetic material.
Display this where you can see it every day! A great gift for any woman.
http://www.themagnificentmagnet.etsy.com
The Magnificent Magnet...there's a magnet for everyone!