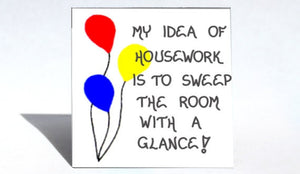 Kitchen Magnet, housework humor, cleaning, red, yellow, blue balloons
A humorous kitchen magnet about housework and cleaning will bring a smile to many.
Saying reads: My idea of housework is to sweep the room with a glance.
Great gift of humor!
Each Magnifient Magnet is handcrafted. A laminated print is adhered to sturdy, thick, flexible magnet and measures 3 x 3 inches.
Thank you for visiting.
The Magnificent Magnet,,,there's a magnet for everyone!
http://www.themagnificentmagnet.etsy.com