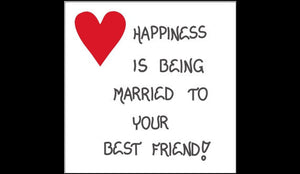 Refrigerator Magnet - Marriage Quote, Married to your best friend, heart design
A Refrigerator Magnet with Marriage Quote about being married to your best friend. Heart design.
Quote reads: Happiness is Being Married to Your Best Friend!
This Handcrafted fridge magnet, a 3 x 3 inch square is made of flexible vinyl magnetic material.
Strong and unique.
A gift of love for your husband or wife that stays visible!
USA Made and proudly handcrafted in the Historic Hudson Valley!
http://www.themagnificentmagnet.etsy.com