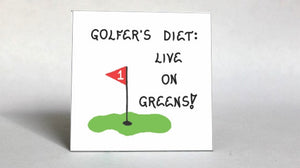 Humorous golf quote, about golfers and golfing - putting green, red flag
Great diet...for golfers!This humorous golf quote about dieting is illustrated with a putting green and red flag. 

Magnet says: Golfer's Diet...Live on Greens!
Handcrafted refrigerator magnet is 3x3 inches square and made of a laminated art print on flexible magnetic material.
Great gift for the golf lover or golfing team members.
Personalize it with your partner's or foursome's names at the bottom FREE!
Include name spelled and capitalized exactly as you want it to appear.
Golf is life...the rest is just details!
Any way you slice it, golf has me hooked!
Proudly handcrafted in New York State's Historic Hudson Valley!
Thank you for visiting!
The Magnificent Magnet