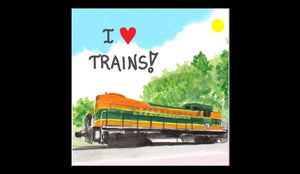 Train Magnet Quote, railroad enthusiasts, engineers, locomotive, engine , green and orange
Railroad enthusiasts will love this train magnet quote. Locomotive engine in green and orange illustrates this magnetic saying.
Text reads: I Love Trains!
Handcrafted 3 x 3 inch laminated original art print on vinyl magnet.
Bring a smile to the train collector or train enthusiast.
Here are two other delightful train quotes:
http://www.etsy.com/listing/87469784/train-magnet-quote-railroad-enthusiasts
http://www.etsy.com/listing/87799646/train-magnet-railroad-enthusiast
USA Made and proudly handcrafted in the Hudson Valley!
The Magnificent Magnet
http://www.themagnificentmagnet.etsy.com