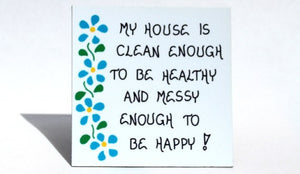 Housekeeping Magnet - Humorous Quote - home, house, blue flowers, green leaf design
A humorous quote about housekeeping is the theme for this magnet about house and home. Blue flowers with a green leaf design compliment this saying.
Refrigerator Magnet reads: My house is clean enough to be healthy and messy enough to be happy!
Handcrafted 3 x 3 inch laminated print on flexible magnet
USA Made in the Historic Hudson Valley.
http://www.themagnificentmagnet.etsy.com
Wholesale pricing by the dozen on all of our fridge magnets to retail shops. Please message us for catalog and prices.
Thanks for visiting our collection of Magnificent Magnets!